Category menu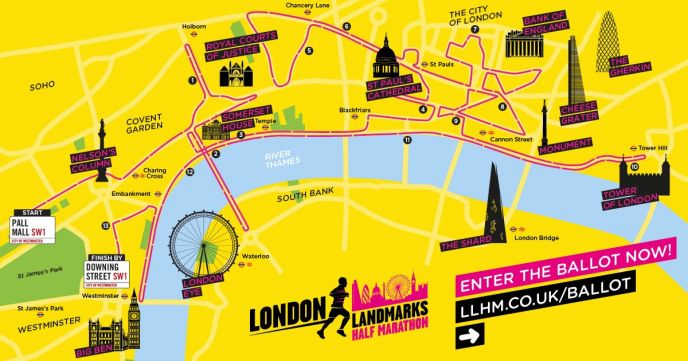 London Landmarks Half Marathon
Posted on 19 June 2019 by Pippa McClounan
We are thrilled to be a charity partner of London Landmarks Half Marathon 2020!
London's central half marathon through Westminster and the City
Not your average half marathon! From cultural landmarks and heritage, to the city's quirky and hidden secrets, as a runner you can explore the capital on a route like no other!
Starting on Pall Mall and finishing by Downing Street, take in fabulous views of London's most iconic landmarks including Big Ben, St Paul's Cathedral, Nelson's Column, the Gherkin, the Shard, the Tower of London and the London Eye.
Join Tourettes Action to challenge yourself with this incredible event and help to transform the lives of those who live with Tourette Syndrome in the UK.
For the first time, we have secured 10 charity places for thie LLHM 2020. If you'd like to participate and enjoy the unique adrenaline boost of having the cheers of thousands ringing in your ears (in fancy dress or not, just as you please!) then we'll support you every step of the way. We can provide a fundraising pack, Tourettes Action running vest, fundraising materials and our full support.
Registration fee: £25
Fundraising target: £350
Please contact Pippa to register your intereset and request an application form.
The London Landmarks Half Marathon ballot is now open from 18th - 25th June 2019
Enter the ballot today to secure your own place and set your own fundraising target.
Ballot results will be announced on the 27th June.
Return to news