Category menu
TICfest Wales!
Posted on 8 October 2019 by Helen Eadie
The first TICfest in Wales and the first TICfest for all eight families attending!
The venue was the Summit Centre on the site of the old Trelewis Drift Mine near Merthyr Tydfil. The children all had a go at Archery and shelter building on Saturday morning and after lunch headed off down the valley to the lake.
A supply of plastic barrels, wood and rope were provided and after an hour two rafts had been built with encouragement and some direction from staff and parents. The launch took place and the vessel crewed by the three girls successfully took to the water. They were followed minutes later by raft number two with a crew of seven!
To everyone's surprise both rafts stayed afloat for several minutes before the seven crew vessel suffered the loss of a barrel and then another… The end result was the same for both rafts with all crew of course ending up in the water. For photos see our Flickr account!
The weather was against us on Saturday evening so the sports pitch had to be abandoned and instead we held the first TICfest Family Quiz with the winning team headed by Ray French. This was followed by some 'retro' party games, who knew Musical Chairs and Pass the Parcel could be so popular! The evening finished with too many sweets, popcorn and a film.
Families left on Sunday having exchanged contact details and hoping to come to TICfest again in 2020. This was our fifth TICfest this year and once again the event has brought people together, given children confidence and made them see they are not alone with TS. Thanks to all the families who attended and the children for being such great sports, getting stuck in and having a go.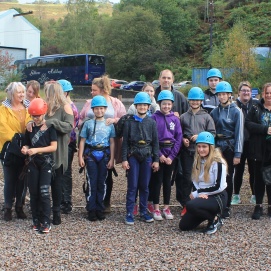 Return to news