Category menu
Great start to our teacher training workshops!
Posted on 28 October 2019 by Helen Eadie
We have had a great month this/last month with the introduction of our new Teacher Workshops. Our first one was at the Mercure Grand Hotel in Bristol on Friday the 4th October. Many thanks to our visiting speakers, Katie Skinner (Specialist Teacher), Natalie Davidson (Teacher with TS) and Rob Long (Psychologist) who came along to join us in making it the success it was. It was a great day full of information, strategies and team work, making sure our teachers had the most up to date information and advice on how to best support children with Tourette Syndrome in their schools.

We had amazing feedback and everyone went away with a pack of resources ready to make a difference in their schools. A big thanks to all the teachers that came along showing enthusiasm and a real thirst for wanting to know as much as they could to make sure they were doing their absolute best for their students. We are very much looking forward to our next Workshop on Friday 29th November at St Giles Hotel London. Click here for more information and tickets.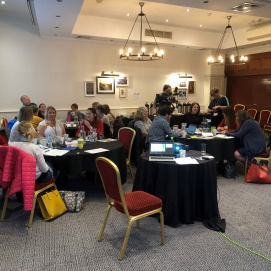 Great to see so much engagement at out Bristol workshop
Return to news