Category menu
Summary of TICS Connect event
Posted on 28 October 2019 by Helen Eadie
On the 6th September 2019, researchers from the University of Southampton held a free Tourette Syndrome "TICS Connect" information event. Dr. Valerie Brandt gave a talk about general information regarding tic disorders and Dr. Samuele Cortese gave a talk about treatment options. Afterwards, we took an hour to exchange experiences as patients, carers and clinicians. We discussed difficulties families experienced; families reported having difficulties entering into CAMHS and experiencing difficulties to receive a Tourette Syndrome diagnosis because clinicians were cautious about "labelling" children with this diagnosis. We also discussed gaps in our knowledge, and where this information would be important to families of patients with tics, such as the long-term predictors of tic severity in children with tics. The event was a very positive and open exchange of experiences and ideas and received very positive feedback by the attendees.
The information from informal discussions will be used to develop research projects around those themes and apply for funding.
You can visit the TICS Connect facebook page formore information about their current research.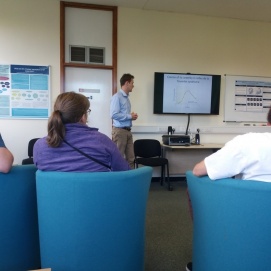 Return to news