Category menu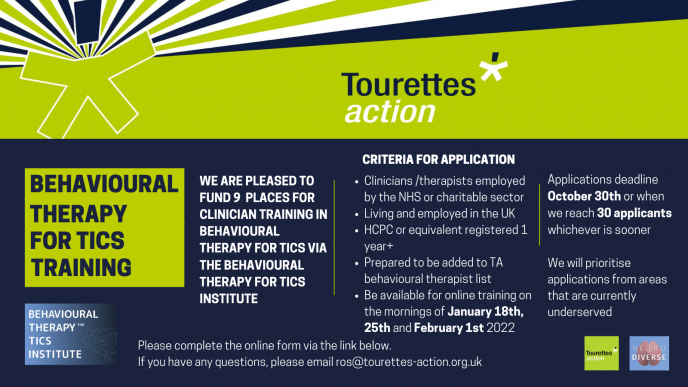 Tourettes Action Behavioural Therapy Training Grant
Posted on 8 September 2021 by Pippa McClounan
We are very pleased to announce that we have secured funding to offer training in Behavioural Therapy for Tics for professionals
It is increasingly apparent that there is a significant shortage of professionals who are trained in delivering specialised therapy for those living with TS, so we are delighted to secure 9 funded places on the Behavioural Therapy for Tics Institute (BTTI) training workshops, scheduled for early 2022.
The workshops consist of live online training workshops with Dr Tara Murphy and Jolande van de Griendt, delivering presentations including pre-recorded videos and a live patient demonstration using ERP & habit reversal. The training will take place over 3 half days and full training costs of £350 will be covered by the TA grant.
Those who are succesful in securing a fully funded place on this comprehensive course will be added to the Tourettes Action list of therapists, which is shared with the TS community across the UK.
To apply for a place, please check you meet the criteria (see advert above) then click this link to complete the application form.
If you have any questions regarding the process, please email ros@tourettes-action.org.uk.
Return to news