Category menu
Result summary of survey conducted by Great Ormond Street Hospital, Kings College Hospital and Tourettes Action
Posted on 2 June 2015 by Helen Robbins
Survey shines light on how people affected by TS wish to see developments in particular areas of research

Thank You!
Tourettes Action and researchers from Great Ormond Street Hospital for Children (Dr Tara Murphy, Consultant Psychologist) and King's College Hospital (Dr Davide Martino, Consultant Neurologist) recently gathered information via an online survey on people's views about education, Tourette Syndrome (TS) and tic disorders.
This survey is now closed and the results have been collected. The online survey was completed by an impressive 247 people and explored the needs of patients and parents regarding information people would like to have on TS and tic disorders. The final goal of the survey will be to develop a new, educational programme informed by people with Tourette syndrome and tailored to their needs.
The focus of this article will describe the results of the survey. Many thanks to everyone who completed the survey, the researchers and Tourettes Action were delighted with the number of people who responded.
Headline Results about Information
• Feedback from the online survey demonstrates that 61% of respondents (around 166 people) felt they had not received adequate information on TS and tic disorders from health professionals in the past.
• Respondents indicated that they wished to receive information on alternative treatments for tics, to know why tics change over time, and to understand more about the hereditary nature of tics.
• 71% of respondents (around 123 people) reported a need for educational support on TS in a format that they could 'take home'. This might be an online source of information or a paper-based resource.
• Qualitative data from the online survey highlighted that individuals need more information on the commonly co-occurring difficulties associated with TS e.g. anger, low mood and anxiety.
• A need to enhance the knowledge and understanding of educational professionals was highlighted, as was the need to correct public misconceptions about TS.
• The survey emphasised the need for information from diagnosis (at the initial point of contact with health professionals), as there is currently disparity and varying level of expertise in the information provided by different services and professionals up and down the country.
Findings support existing literature which states that many patients do not receive adequate information and care, and that psycho-education represents an important component in providing support and enhancing knowledge in Tourettes Syndrome.
Headline Results about Research
In regards to the question posed about what kind of research into Tourette syndrome people would like to see, the answers are very interesting and certain major themes arose.
Education
The theme of education was strongly highlighted in the online survey. People wish to see more research about school and education. Issues such as learning and behaviour in schools and help and support for children in educational environment were mentioned. What also came to light was that people particularly felt there was a need to raise awareness of TS among teachers; issues of bullying and teasing about TS were common.
It has been recognised that school and education are of fundamental importance for young people with Tourettes Syndrome. Tourettes Action previously commissioned a research study (funded by the Big Lottery) which helped researchers at the University of Nottingham to highlight the impact of TS on secondary education by talking to parents, teachers and, for the first time, the young people themselves.
Stigma
The next often cited theme people wanted to see research carried out in was stigma. This included where people completing the survey were keen to know more about social acceptance of people with TS. Other terms used related to embarrassment that people with TS experience and how stereotypes of people with the condition are portrayed by the media. These important areas will hopefully be studied in the future. 'Importantly, the need for training and understanding by professionals and clinicians was also highlighted as an area for better understanding.
Causes of TS
The causes of TS was something many people mentioned either wanting to have a greater understanding about. The way in which tics can be passed down between family members was highlighted as an interest by many respondents. In fact there are several research projects (EMTICS (www.emtics.eu) and TIC Genetics (www.tic-genetics.org)) running currently which explore these themes on an international level and include many specialist clinics here in the United Kingdom.
Interestingly, there were many responses about a broad range of areas that might come under the title of foods & diet and other health issues (see table below for the details) which may be areas of research in the future.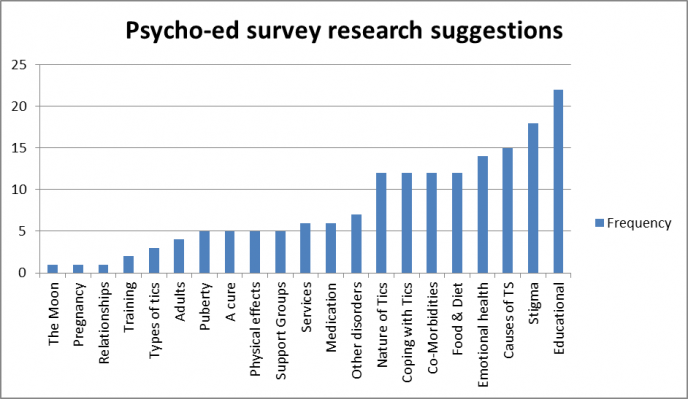 Future directions
These research results are useful in many ways. They can help Tourettes Action steer and suggest research in relation to the themes which emerged to the research community. It also means Tourettes Action can act as a link between the public and researchers to produce online articles on its website in order to discuss these themes which people have raised.
If you have an interest in conducting research in the area of TS and tic disorders then please contact Seonaid Anderson at Seonaid@tourettes-action.org.uk
Written by Seonaid Anderson and Dr Tara Murphy.
Return to news