Category menu
TICfest Devon 2019!
Posted on 18 July 2019
Round up of the weekend!
Eleven families travelled to the Beacon Centre, perched high above the sea near Lynton in North Devon for this year's TICfest Devon . Two families even came all the way from Liverpool and Staines near London! Six of our families were new to TICfest but were soon part of the gang with the children wasting no time in heading off to play. Old friendships were rekindled and new one's made.
The venue for TICfest Devon probably has the most spectacular setting and once again the weather was on our side, with a beautiful sunset on the beach Saturday evening after the bonfire, marshmallows and popcorn.
One of the children, Wilamena, took the opportunity to conduct interviews with some of the parents and children to use on her Blog and this will also be available on our website.
New for this year was our TicART session kindly led by artist John Dyer and his wife Joanne. The easel was set up on the slopes of the valley looking down towards the sea. The children were all encouraged to help paint a large 'group' piece while producing their own individual illustrations of the landscape.
The finished work is fabulous and will hang in the TA office but we are planning to reproduce posters and cards. Many of the children feature in the painting.
Everyone took part in the Sunday morning Zip Wire, including Mum's, Dad's and a Nana!
TICfest Devon did exactly what the event is meant to do, connected children with other children and the same for parents. So much so that they have formed their own TICfest Facebook page to keep in touch and share photos.
Two 'fests down and another three to go plus of course TEENfest!!
Please visit our Flickr gallery to view more photos from TICfest Devon 2019.
And finally...a huge thank you to event organiser Michele, and all the team who provided help and support throughout the weekend.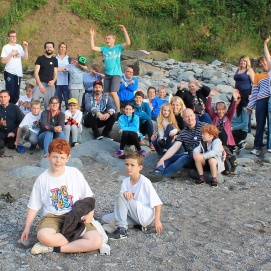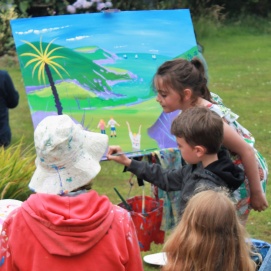 Return to news