Section menu
TEENfest
Our residential weekend events for unaccompanied teenagers aged 14-17 years old.
TEENfest 2022
TEENfest is a wonderful opportunity for teens with TS to meet other teens for a weekend of making friends, mutual support and fun. Many young people with TS have never met anyone else with tics so can often feel alone, isolated and mis-understood. This is an ideal experience to really connect with their peers which can help build self esteem and confidence.
Venues 
Lake Windermere, Cumbria
We kick off 2022 with a visit to the beautiful setting of Ghyllhead Activity Centre set alongside Lake Windermere in Cumbria. We have sole use of a self-contained bungalow. Expect some water based activities as well as the usual karaoke, campfire and pizza party! Open to TS youngsters aged 14-17 years. This is an unaccompanied weekend for teens only.
New Forest, Hampshire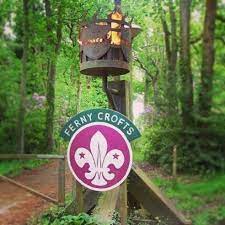 Rounding off the year we return to the New Forest and the wonderful Ferny Croft Centre near Beaulieu. The weekend will include six hours of fun activities plus of course, karaoke, campfire and pizza-party! Open to TS youngsters aged 14-17 years. This is an unaccompanied weekend for teens only.
Our previous TEENfest events, held in 2018 and 2019, were hugely succesful and life-changing for both attendees and their families. One parent wrote to us to say:
'It was very emotional leaving him at the event. I could see how relaxed he felt just being himself and not trying to supress his tics. It was amazing and overwhelming seeing him with other people his own age. As a parent you just want your child to be happy and he was. These events are a lifeline in more ways than you can ever know. They provide safe fun weekends, friendships, the opportunity to try new things, the chance to be away from family, making decisions on their own. For family members it gives respite but it also gave me hope that he can be accepted into a social setting. I can't thank you enough'.
You can read what our young people took away from their weekend in these amazing blogs:
Read this summary from TEENfest 2018 by Pippa, who hosted the event with her colleague, Emma:
Please note that these events are for unnacompanied teenagers.  Staff from Tourettes Action will facilitate the weekend event, and on-site activities will be fully supervised by venue instructors.
REGISTRATION IS NOW CLOSED. PLEASE EMAIL Emma Myers FOR DETAILS OF OUR WAIT LIST
Terms and conditions
All participants must have a diagnosis of Tourette Syndrome and be aged between 14 - 17 years old.
The cost of attending a TEENfest event is £50 per teen, and will include accomodation, activities and all meals during the weekend.  Full payment required at time of booking.
Please contact us if you have concerns regarding payment as we want to make these events as inclusive as possible.
If you are not successful in obtaining a place your name will be put on the waiting list for your chosen event.
We understand that participants may wish to keep in contact through social media.  We encourage continued friendship and support networks, and advise that both young people and parents read our Top Tips for maintaining safety and wellbeing on social media (right hand side).
Our huge thanks go to our 2022 TEENfest funder, The Speedomick Foundation for their generous contribution.
For further information please contact TA Event Manager Emma Myers