Category menu
Tourettes Action Research Network (TARN) meeting 2018
Posted on 16 May 2018 by Helen Robbins
This event provides a vital link between the researchers, academics and clinicians who see and treat patients with tics and Tourette Syndrome across the UK and internationally.
Tourettes Action would like to thank the James Tudor Foundation for partly funding the 2018 Tourettes Action Research Network (TARN) meeting.
This years event will take place at the Royal Society of Medicine on Thursday 13 September 2018, 9.30am – 4.30pm.
For more information please download the flyer on this page.
Tickets can be booked here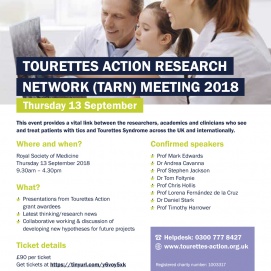 Return to news