Category menu
September Fundraisers
Posted on 25 September 2019 by Pippa McClounan
See what our fabulous supporters have been up to this month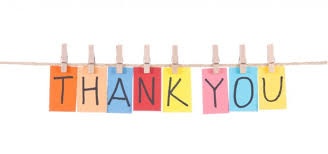 A huge thank you to Archie Higgins and family who recently organised a Fundraising Golf Day including a raffle. tombola, auction and disco! They raised over £3000 to be split between Tourettes Action and Juvenile IIiopathic Arthritis. Thank you to everyone who made the event such a great success!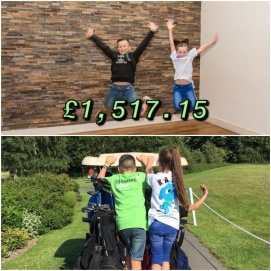 Guess the name of the dog! Well done to Josh and Seth for organising this great fundraiser for TA, raising £128.46 for TA and their local Guildford Support Group. Well done boys! (the dog's name was Fudge).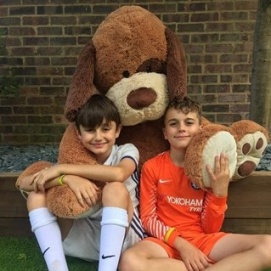 A massive well done to super fundraiser Stu Haddow who completed the iconic Great North Run for Tourettes Action raising £360. Stu is pictured here with his inspiration for running for TA, his 13 year old nephew Josh. Well done Stu!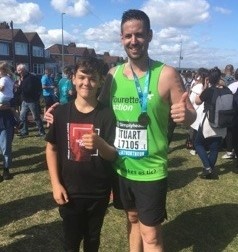 Free-falling for TA! Thrill-seekers Kelli Briggs, Sam Pearce and Rachel Taylor took their fundraising to new heights by jumping from a plane at 13,500 ft! Their generous donors raised a whopping £1600 for TA. Huge respect to you 3 amazing women!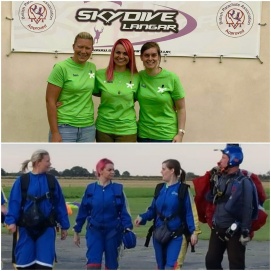 Sarah Sharp spent her 34th birthday getting extremely muddy at the London Tough Mudder event because of all the help & support provided to her family by TA, raising £90 for her hard efforts. Great job Sarah!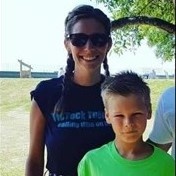 A huge well done to Hayley Larcombe for organising such an amazing fundraising evening in support of TA and the Manchester Support Group. There was fabulous live music and a raffle, raising over £2000! Thank you to everyone involved!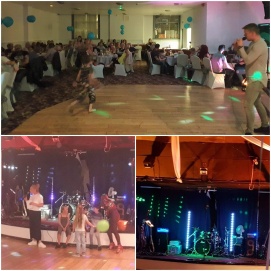 Big shout out to Leigh Copping for raising £275 by running the Sheffield 10k. Leigh is raising money for TA after receiving support for his son, Leighton, who was diagnosed with TS last year. Well done Leigh!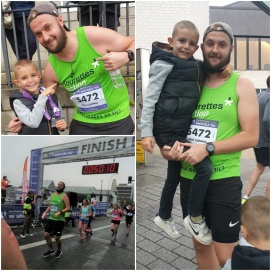 Well done to Sophie Mullen and Bearsden Academy for raising awareness and funds at a recent school cake sale. This is a fantastic example of how a school can support their students with TS. Thanks to all staff and pupils who got involved, especially Sophie's mum, Dawn, for baking up a storm and super-star teacher, Ms. McCloy.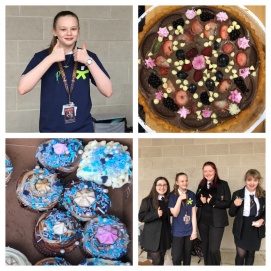 Emma McNally challenged herself to running 100k in a month to show her support for the Manchester Support Group who have helped her family, raising £1171 for her amazing efforts. You Wonder Woman!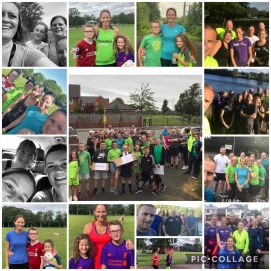 There was a full house for the exciting pub quiz and raffle organised by Lottie Smith, which raised £300 on the night, to be split between two charities, including Tourettes Action. Thank for all your hard work!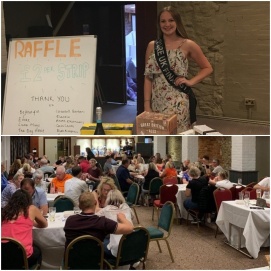 Facebook Birthday Fundraisers
10 people signed up to Facebook's fundraising platform this month, to selflessly raise donations for TA instead of receiving birthday gifts. Not only is this a kind, generous gesture, but it also raises important awareness on social media.
Our HUGE thanks go to the following supporters who have raised £405!
Chloe Lewis
Georgina Athenesi
Iona McDonald
Tracy Alcock
Charlie Vanstone
Suzanne Dobson
Annie Vasconcelos
Michael McNally
For details on how YOU can fundraise for Tourettes Action, click here.
Return to news