Category menu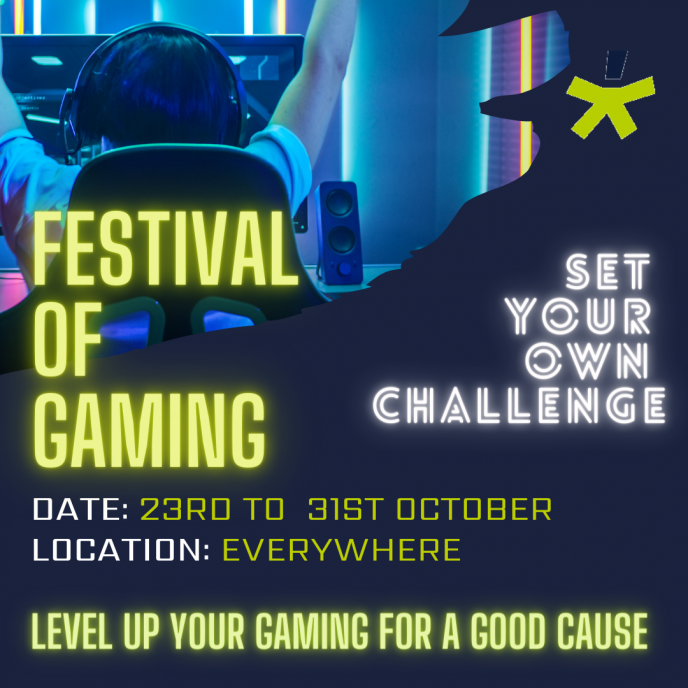 Festival of Gaming 2021
Posted on 27 September 2021 by Pippa McClounan
Join our exciting campaign and get gaming for a good cause
Videogames are played by hundreds of millions across the world, from the gamers who'll dedicate hours at a time to their hobby, to people who might just play on their phone every once in a while. Videogames are big business and have the potential to offer a lot of support to good causes.
Charity gaming events are a great way for people to have fun and raise some money for a good cause at the same time. With over £75 million raised on livestreaming platform Twitch since 2012, millions are already gaming to make a difference - and you can make a difference to Tourettes Action by joining our exciting campaign!
How does it work?
You set your own challenge - it could be a 2 hour battle against your fellow gamers, or a solo 24-hour gaming marathon - you decide, as long as it's between 23-31 October 2021.
Share our Just Giving Campaign page with your friends, family and fellow gamers to spread the word, get sponsored by your friends and family and raise awareness and donations for your cause.
OR se to a Tiltify page to share with your supporters.
Keep us posted and we will send you a 'I gamed for TA' finishers certificate.
Already a seasoned gamer and have a Twitch or other gaming account?
Streaming from scratch is easy and you don't need to buy expensive equipment to be able to do it! To start you will need a JustGiving page, Twitch account and to download OBS. Read a full step-by-step guide here!
Linking your fundraising page to your twitch page is really easy. Simply head over to live.justgiving.com to get your OBS browser links. Not sure how to do this? Don't worry! You can read a full step-by-step guide here!
Need some ideas?
Check out some top gaming fundraising ideas

here

!

Mulitplayer games are great for Gaming Marathons because it brings people together to have fun and raise money for great causes. Click here for a

list of games

that Twitch has ranked in order of most watched to help you choose.

Whether you're a tweeter or someone that loves the gram, sharing your page on social media is the best way to tell the world about the your fundraising efforts!

Here

is a great guide to help you get social media savvy.
Whether you're a first time gamer or seasoned pro, here is everything you need to get started including How-To-Guide's and stream overlays!
And finally, let us know once you have decided on your challenge so we can support you, share on our social media platforms and tune in!
Return to news