Section menu
Category menu
Stefan Evan's story
Stefan is 20 and has a diagnosis of Tourette Syndrome and Asperger's Syndrome. In this blog he writes about his experience and how music is his therapy.
My journey began when the health professionals got involved with me at the age of 3 as I couldn't speak. Well before I reached my teenage years I was diagnosed with Aspergers Syndrome and developed Tourette Syndrome (predominantly physical tics) around age 12. I have it still today, and suffer deeply from it as well. It is not easy for me to have TS because it seems to get worse, and it is also quite painful because I have certain tics that make me hit myself - and that hurts me. My Tourettes got really bad when I was a bit younger; at the time I wasn't on any medication to help my tics, and it just got worse and worse. Although medication does not work for everybody, I have found that it really helps me. I also try not to think about my TS much. I find that trying ignore it really helps.
Some time ago my mum was concerned that I wasn't going out very much and therefore told me I needed to find a hobby. One suggestion was to learn a musical instrument and I chose the guitar. Since then I have not looked back. I enjoy music very much as I find it helps me forget my TS disability. When I left school at the age of 18 I went to Pershore College for a year to do animal care but unfortunately I did not like it so decided to embrace my musical skills and enrolled at Stratford upon Avon college to study level 2 music. I have just finished that course and am now preparing for my A levels in level 3. Music helps me a lot as it takes my mind off my TS, in particular it helps relax me and suppresses my tics. I was very pleased to find out recently that I had been nominated for the 'Outstanding Achievement in Music Performance and Music Production' at Stratford College. I didn't win but was very honoured to be nominated.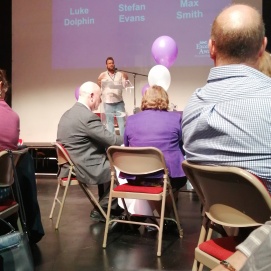 I have started to write my first album, both lyrics and music. There are twelve songs altogether on the album and this can be found on Spotify, iTunes, Youtube, Deezer, Demo drop and Google play. My album is called 'Another face in the Crowd'. When I'm not at college I occasionally go scuba diving and also go busking which I really enjoy. I would really recommend to anyone with TS to help take their mind off it by finding a new hobby. Music has, without doubt, been my therapy.
Return to blog