Category menu
Ticfest Norfolk 2019!
Posted on 19 June 2019
The first TICfest of the year took place in the beautiful Thetford Forest at Thorpe Woodlands, this was a new venue with excellent instructors and we liked it so much we've booked for 2020!
Of the 14 families attending, six were new to TICfest but they soon got into the swing of things. The weather was fabulous throughout the weekend which meant the children were able to play outside during free time. It also meant that those who ended up in the river during the raft building didn't mind getting soaked!
Saturday night kicked off with TICfest's Got Talent and we were entertained by some fabulous music, singing, dancing and magic acts from the children. Everyone taking part received a TA medal. The Talent Show was followed by the Karaoke where the parents I think it's fair to say, stole the show! Thanks to Natasha for being brave enough to go first with a memorable rendition of 'Living on a Prayer' and Sharon for closing the show with her take on 'Girls Just Wanna Have Fun'. We did and so did the boys!!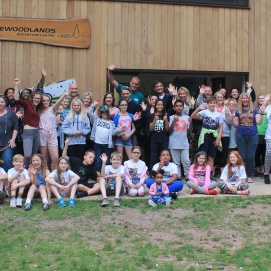 Team Norfolk!
On Sunday morning the children all headed off into the forest with the instructors and two hours later presented their amazing shelters, some with washing lines, en suite facilities and a child cage..! Not all of the shelters survived the water challenge though, resulting in more soggy children.
The weekend was a great success with TICfest doing what it's intended to do – allowing children to have fun, challenge themselves and most importantly, make friends.
We are now looking forward to doing it all over again next month in Devon!!
You can view photos from TICfest Norfolk in Flickr. And we'd like to say a big thank you to event organiser Michele for her wonderful photography.
For more information on our Ticfest events please visit our webpage
Return to news