Category menu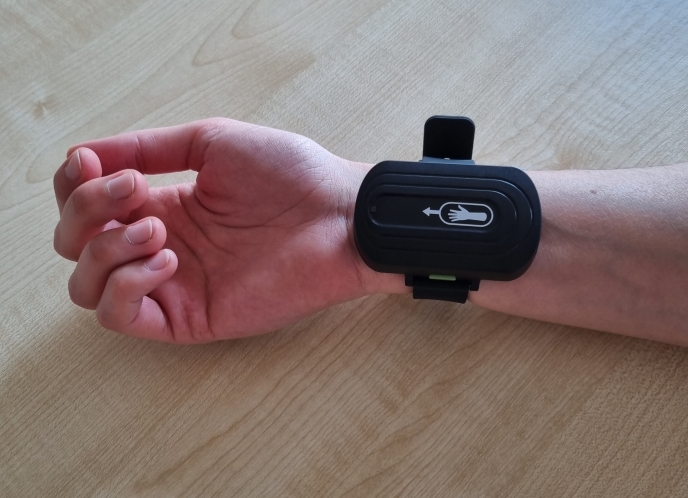 Clinical trial launched for wearable device to control TS
Posted on 1 June 2022 by Pippa McClounan
A wearable wrist device that delivers electrical pulses to reduce the amount and severity of tics experienced by individuals with TS is being tested in a UK-wide clinical trial.
Previous research by scientists from the University of Nottingham's School of Psychology and School of Medicine used repetitive trains of electrical stimulation to the median nerve (MNS) at the wrist to entrain rhythmic electrical brain activity - known as brain oscillations - associated with the suppression of movements. They found that rhythmic MNS is sufficient to substantially reduce tic frequency and tic intensity, and remove the urge-to-tic, in individuals with TS.
University of Nottingham spin-out company Neurotherapeutics Ltd has now developed a prototype device, worn like a wrist-watch, that can be used by participants in their home setting with support from researchers in Nottingham.
Places are still available to take part in the Clinical Trial for TS
The members of the team at the University of Nottingham and Nottingham University Hospitals NHS Trust are conducting a clinical trial to examine the effects of median nerve stimulation on TS symptoms and there are still places available to participate.
Requirements to take part:
Aged between 12 and 90 years old.
Confirmed or suspected diagnosis of Tourette Syndrome or Chronic Tic Disorder with a moderate amount of tics.
Stable treatment regime/no treatment for the past 2 months
Internet access & access to electronic device to complete online questionnaires and video calls.
Ability to travel to Nottingham
Resident in the UK
We will not be recruiting participants with epilepsy
We will not be recruiting participants with implanted electronic devices (e.g. pacemakers, insulin pump, implantable cardioverter defibrillator, neurostimulators)
We will not be recruiting participants sharing the household with an individual with implanted electronic devices (e.g. pacemakers, insulin pump, implantable cardioverter defibrillator, neurostimulators)
We will not be recruiting participants with a diagnosis of non-verbal autism or similar condition which would affect ability to give informed consent to take part in the study
We will not be recruiting pregnant participants
We will not be recruiting participants who have participated in previous research studies involving median nerve stimulation
If you are interested, please get in touch with: Barbara.Morera@nottingham.ac.uk
Return to news