Category menu
European Society for the Study of Tourette Syndrome (ESSTS) 2018 conference
Posted on 9 March 2018 by Helen Robbins
The 11th annual ESSTS conference is taking place in Copenhagen from 13-15th June.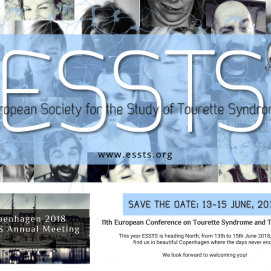 Scientists, clinicians, post-doctoral researchers, residents, fellows and other professionals working in all areas associated with Tourette Syndrome, tics and related disorders, are invited to join this event and submit abstracts to be presented at the conference.
Programme highlights include:
Update on Etiology (Genetics and non-genetic risk factors)
Immunity, Environment and Tic Disorders
Co-occurring conditions
Neuro-biology of Tourette Syndrome
You can visit the ESSTS conference website for further information and to book your ticket.
Return to news